THE NEXT WAVE Inaugural East Austin Growth Summit shines spotlight on game-changing projects
by admin
November 18, 2019
0
Austin's east side is changing by the day.
It's a playground for developers big and small, the subject of Austin's gentrification discussions and has offered some of the best real estate investment opportunities in the past decade.
By Colin Pope and Erin Edgemon – Austin Business Journal
But East Austin ain't seen nothing yet. On the horizon are dozens of game-changing projects that will take the area to new heights. Below are details on a few of the big changes in store; the projects were also highlighted on Nov. 14 at Austin Business Journal's inaugural East Austin Growth Summit.
EXTREME MAKEOVER: VELOCITY CROSSING
Near Austin's airport, a huge swath of Central Texas land is on the verge of going urban.
It starts with the construction of a 126,000-square-foot manufacturing and distribution facility for French cosmetics maker Capsum. It's rising along FM 973 near Highway 71 in the sweeping Velocity Crossing mixed-use development in Southeast Austin.
A planned second phase of the facility will bring the square footage to about 400,000 square feet on the 50-acre site, said Doug Launius, a principal at Marketplace Real Estate Group, which is developing Velocity Crossing.
"They looked nationally before they chose Austin," he said of the company, which he referred to as Project Bluewave. "It was a pretty big win for the city to get that here."
Capsum is building in the area shaded dark purple and labeled industrial/manufacturing.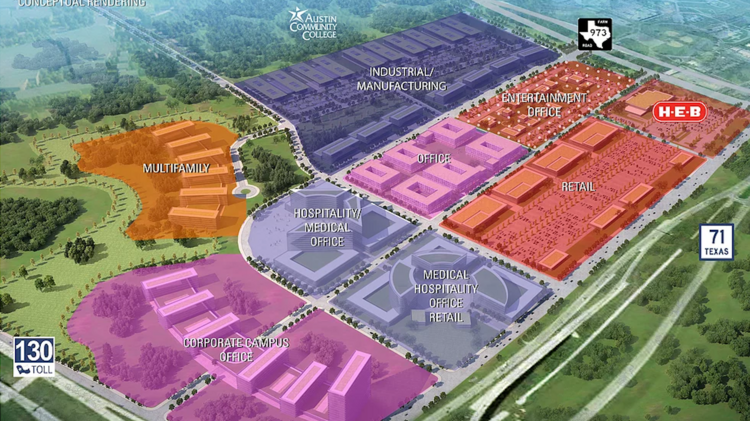 Capsum announced to ABJ that about 150 people will be in a facility that can crank out 40 million products annually. Capsum Chief Operating Officer Anthony Briot said the site will serve U.S.-based corporate clients.
About 314 acres of Velocity Crossing along the State Highway 130 corridor near the Austin-Bergstrom International Airport will be developed into about 5.5 million square feet of apartments, offices, retail, hotels and light industrial space over the next several years.
The developers are focusing on land planning such as designing the roads and other infrastructure — and determining where buildings will be constructed.
Apartments will likely be constructed first in the next couple of years pending approvals from the city of Austin.
HEB Grocery Co. bought 17 acres in Velocity Crossing in 2016.
"Roads are being built around their site now," Launius said. "I can't tell you when they are going to build, but they will."
Austin Community College owns 124 acres adjacent to the industrial section of Velocity Crossing. The college plans to build a regional workforce center that will house programs such as automotive technology, building construction technology, heating, air conditioning and refrigeration technology, welding technology and jewelry making.
---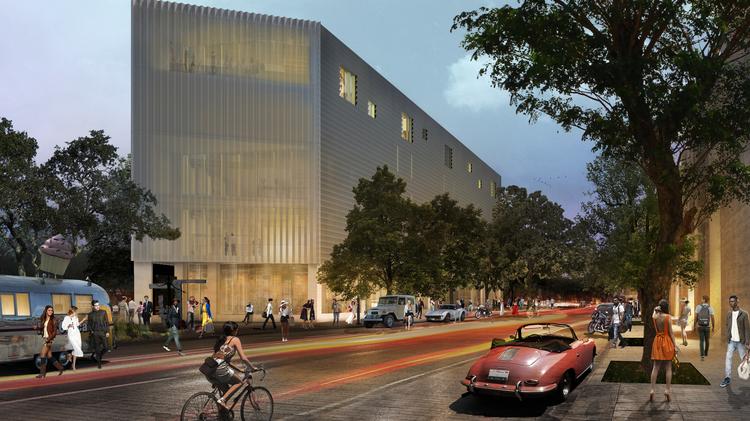 Construction on the Red Bluff mixed-use development at 4713 E. Cesar Chavez St. is expected to start in the first quarter of next year.
This modern-industrial, six-story building will have 74,000 square feet of class A office space over 14,000 square feet for ground-floor retail and a restaurant along Cesar Chavez Street. A 63-room boutique hotel will follow shortly after.
HN Capital is the lead developer. Managing Partner Vipin Nambiar is helping steer the project along with a team that includes Andrew Ashmore of AREA Group. The Red Bluff development is in a qualified opportunity zone, which provides tax benefits for the investors and could yield tax breaks even to tenants that settle there.
It will rise in a typical East Austin industrial setting. A metal warehouse that's housed motorcycle and car repair shops and light industrial users is currently on the hotel site south of Red Bluff Road. The land along Cesar Chavez has been used in the past for tire storage.
The retail component won't be a traditional shopping center. There will be a restaurant concept, but developers would like to see a small grocery store and art gallery join a new spa concept that's being conceived for the property.
The developers hope to secure Austin-based companies as tenants.
Austin-based Studio Luck and Arizona-based Studio Rick Joy are the architects on the Red Bluff project. DWG is the landscape architect. Big Red Dog is the civil engineer.
Much of the hotel will be covered with stucco or plaster. Native plants will be planted to grow up the building. Amenities will include a stainless-steel pool with a cold plunge, a restaurant with outdoor seating and terrace with views of the Colorado River.
The modern hotel will be "one of the coolest hotels in the city," Ashmore said.
---
RAISING RIVERSIDE
One of the biggest projects on East Austin's horizon will rise at 4700 East Riverside. The development grabbed headlines as recently as mid-October when the City Council approved the rezoning request.
Here's what's on the horizon from developers Presidium Group and Nimes Capital:
• 4 million square feet of office space — tantamount to more than seven Frost Bank Towers
• 4,709 multifamily units — with roughly 500 of them being reserved for those in need of affordable housing
• 600 hotel rooms — which would make it the fourth-largest hotel in Central Texas if it were to open today
• 60,000 square feet of medical and dental office space
Michael Whellan at real estate law firm Armbrust & Brown deserves much of the credit for getting the controversial project to advance.
Supporters of 4700 East Riverside believe it will bring transit-friendly development to a major intersection in Austin's core. But opponents have been vocal, making this project somewhat of a poster child for gentrification and displacement because five existing apartment complexes will need to be demolished to make way for the new buildings.
Those apartments won't be torn down overnight — it will probably take about 10 to 20 years for it all to come to fruition — so Presidium and Nimes have signed a memorandum of understanding with the nonprofit ECHO to house 100 homeless people in vacant units in the existing complexes over the next five years. That's on top of a previous agreement with ECHO that has already put about 20 people into some of the old apartments on this site.
The developers have also agreed to pay $1.75 million to fund in-home health care and social workers to help these residents with their transition out of homelessness.
---
OLD, NEW TO BLEND ON SHADY LANE
In September, construction crews started turning dirt for a novel 62,000-square-foot creative office building that serves as an example of balancing preservation with progress.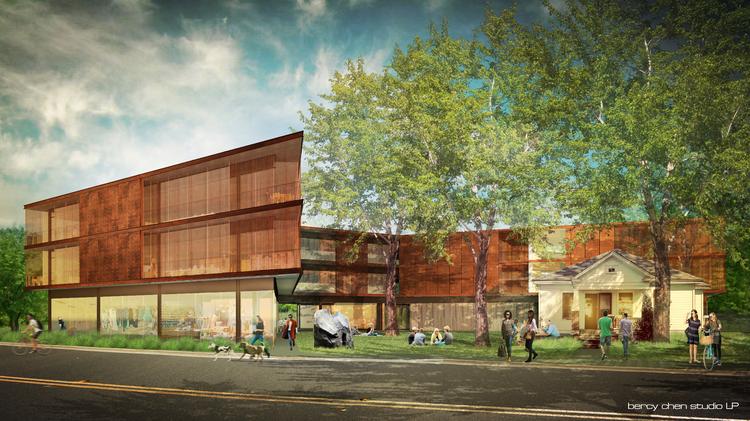 Developers claim it will be the city's first ground-up development to use a qualified opportunity fund, a widely watched but little understood federal program designed to spur investment in low-income areas.
The slab is poured and the building 1141 Shady Lane is starting to rise.
A 1920s-era house reminiscent of the bungalows on Rainey Street sits next to the office building and will be preserved — and then renovated and turned into a restaurant. There will also be a 9,000-square-foot outdoor courtyard around the property, according to brokerage firm Newmark Knight Frank, which represented the buyers in the transaction.
Newmark Knight Frank Senior Managing Director Jesse Weber and Director Joshua LaFico exclusively lease the new development and are quick to point out it is standing in an opportunity zone.
Opportunity zones were designed to spur investment in low-income census tracts. They also offer significant tax cuts and deferrals for those who invest in projects in the zones — up to 15% of capital gains invested can be exempted from taxes, if investors keep their money in the zone for at least seven years. Read more about the rules here.
It's not just the real estate investors that will receive tax benefits from investing in 1141 Shady Lane. Tenants of the new building, especially startups raising capital, could be eligible for benefits as long as most of their assets and gross income is derived from that location in the opportunity zone — and if their backers' investment comes from capital gains.
Travis County has 21 opportunity zones, most east of I-35, while the five-county Austin metro has 35.
Weber said this will be the only office space immediately adjacent to almost 900 apartments — and more are on the way in the area — and he's eager to settle venture-funded tech companies and other innovators there. The building is 10% pre-leased by some of the companies working on the project, including the architecture firm, engineering company and lumber provider.
Architecture firm Bercy Chen Studio LP designed the three-story office building rising at 1141 Shady Lane. Austin-based PlaceMKR and New Jersey-based Saxum Real Estate are developers. It's expected to be ready for occupancy in the third quarter of 2020.
---
MORE FOR MUELLER — A LOT MORE
More big buildings are to rise at the site of Austin's old airport.
Shorenstein Properties LLC started work this month on its first office building in the Mueller neighborhood.
The six-story, 235,000-square-foot building designed by Page Southerland Page Inc. is the first of three the California-based developer could build in partnership with Catellus Development Corp. on Aldrich Street — across from an Alamo Drafthouse and near thousands of homes.
Earlier this year, the developer unveiled renderings of the building, which will have retail and office space on the ground floor. Offices will fill the remaining five floors. A parking garage with room for 985 vehicles will be constructed next door.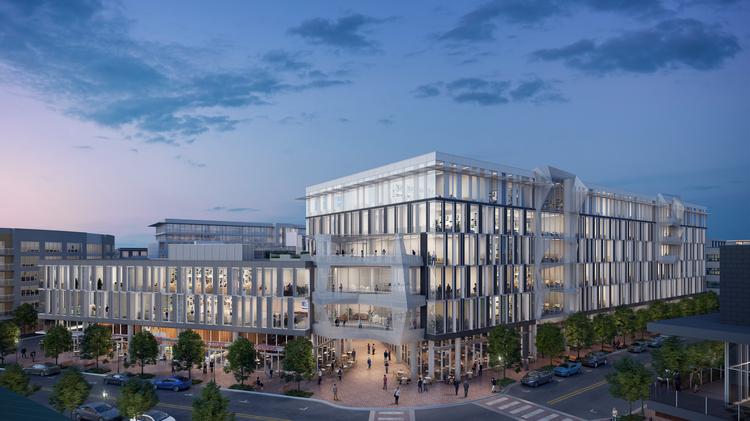 The project is expected to be complete in 2021. Catellus is the development manager for the first office building. Ben Tolson of Aquila Commercial LLC will lease the office portion of the building. CBRE Group Inc.'s John Heffington will lease the retail.
Tolson said in the summer that Shorenstein could build a total of up to 750,000 square feet of office space on three sites in the Mueller Business District.
The area is in need of a shovel-ready office product to offer to brokers and tenants, he said. Tolson indicated there are many businesses that would be interested in a modern office building with large floorplates next to the wide range of amenities, residences and the transportation network offered by Mueller.
The 700-acre Mueller community is built on the site of the former Robert Mueller Municipal Airport, with the old control tower still standing.
Elsewhere in the Mueller neighborhood, Austin Energy broke ground in August on its new $150 million headquarters that should be done in early 2021. The building will be four stories and about 275,000 square feet to accommodate 900 to 1,000 employees, according to Catellus. The building will have a series of 400-kilowatt photovoltaic solar arrays.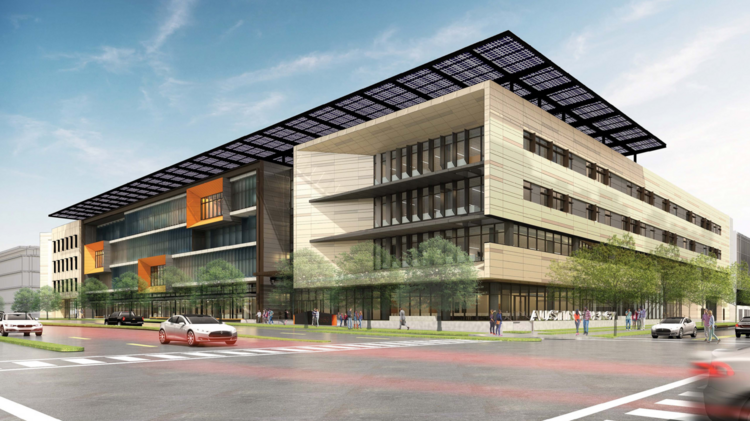 Texas Mutual Insurance Co. opened its headquarters next to the Austin Energy HQ site in October 2018.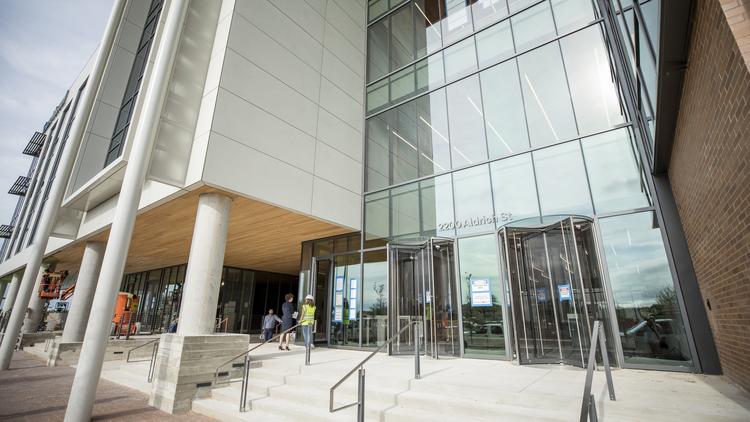 And not far away, AMLI Residential plans to develop another 406 units among two buildings, staggered from three to seven floors. Units will wrap their own parking garages, and 15% will be part of Mueller's affordable homes program. It will bring another 23,000 square feet of ground-floor retail to the increasingly popular Aldrich Street. Adam Zimel at Endeavor Real Real Estate Group is leasing the retail.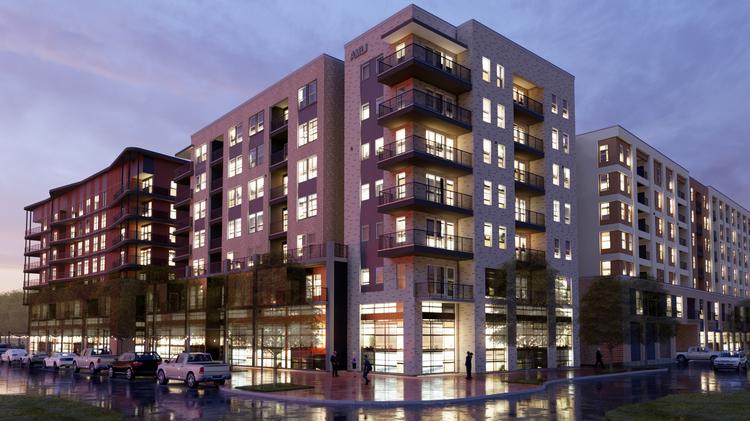 AMLI will likely break ground in early 2020 and wrap up construction the following year.
But wait, there's more for Mueller on the horizon — the Origin Hotel. It will yield 120 rooms on five floors adjacent to the Thinkery children's museum. The hotel will likely break ground in early 2020 and is being developed by The Thrash Group. Zimel at Endeavor is the leasing contact for the retail portion of the project.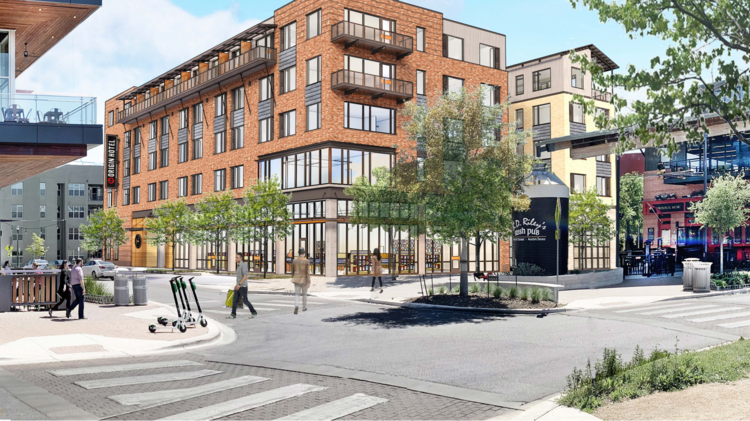 Elsewhere at Mueller, Austin Habitat for Humanity is building 11 row homes designed by Michael Hsu Office of Architecture. They broke ground this month and should be available to low-income residents before the end of 2020.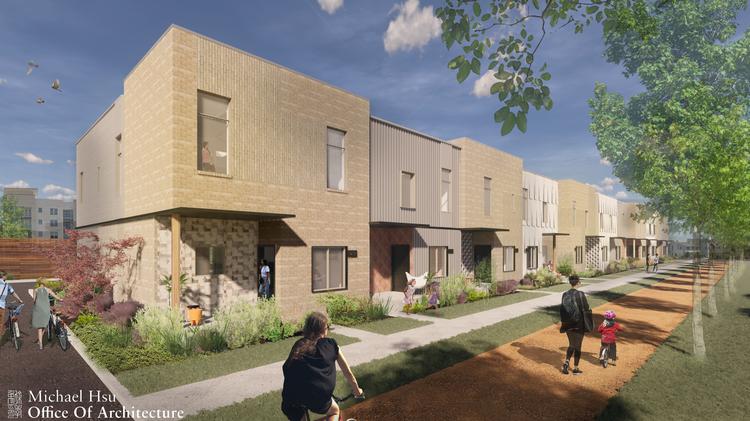 When complete, Mueller will have at least 6,200 residences, split between single-family homes and multifamily residences, plus a mixed-use town center district known as Aldrich Street, 4.5 million square feet of commercial space including 750,000 square feet of retail space, 140 acres of public parks and open space. It is already home to Dell Children's Medical Center, the Austin Film Society, The Thinkery, an H-E-B grocery store and the Austin ISD Performing Arts Center.
---
SALTILLO TO SPICE UP EAST SIDE
Work is wrapping up on Central East Austin's most visible new development — Saltillo.
Perched next to I-35 on East Fifth Street, this development has attracted some of the biggest names in the corporate world, including Google Inc., Whole Foods Market and Target Corp.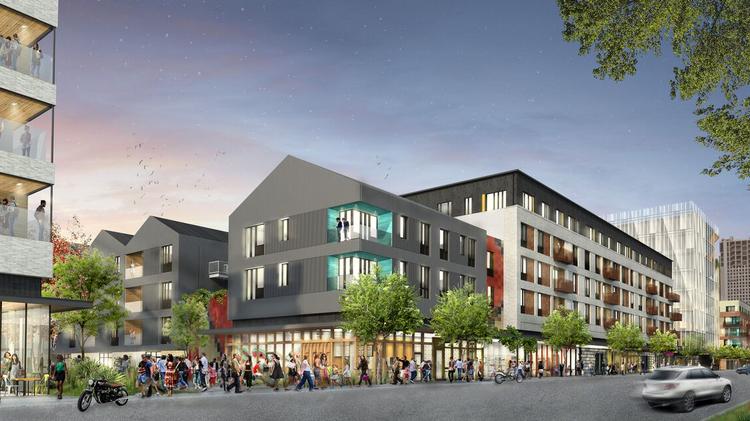 Developer Endeavor Real Estate Group of Austin and Columbus Realty Partners Ltd. of Dallas transformed the 10 acres over six blocks along Capital Metro's commuter rail into a destination that mixes office space with restaurants, bars, a grocery store, shops and music and entertainment venues.
Endeavor's website boasts of 800 multifamily units, 150,000 square feet of office space and 115,000 square feet of retail. The bulk of it is leased.
The ABJ reported in February that tech titan Google will take all seven stories of the glass office building in Saltillo. It has enough space for roughly 700 workers, according to Endeavor's website.
It will be a couple of miles away from Google's flagship Austin location under construction downtown along Cesar Chavez Street.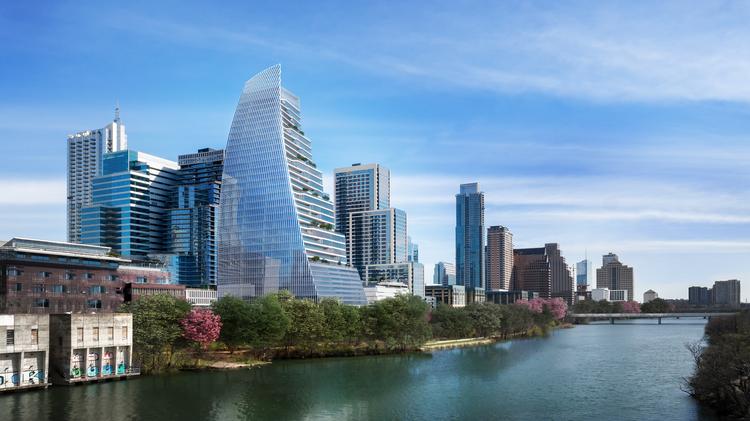 ---
EASTBOUND COMING SOON
In early October, this news broke: Construction could start early next year on Lincoln Property Co. and Kor Group's first East Austin office project.
Dubbed Eastbound, the joint venture from two developers known for their downtown Austin high-rises will have 221,000 square feet of office space spread over two four-story buildings, plus a separate parking garage. It will be at 3232 E. Cesar Chavez St. between Pleasant Valley and Springdale roads.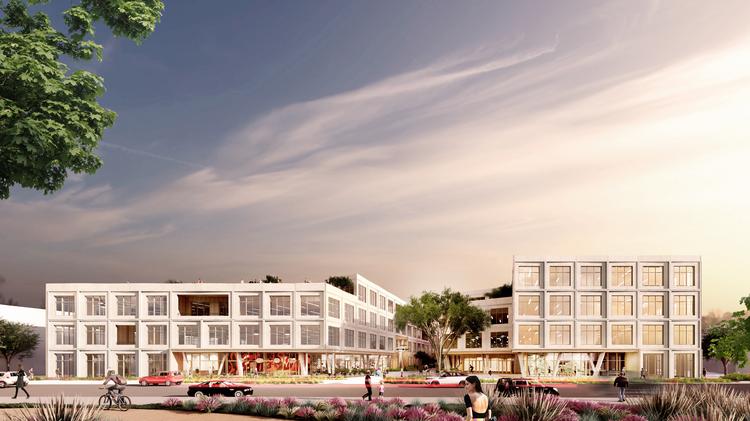 It is in the "sweet spot" for the future growth of East Austin, said Matt Green, managing partner of California-based Kor Group, which developed the nearly complete Austin Proper Hotel & Residences on the west side of downtown.
"You are seeing the connectivity over Pleasant Valley to East Riverside (Drive)," he said. "You are seeing a great connection to the airport for companies that may have multiple campuses or offices across the United States."
Green said the project is capitalized and no pre-leasing is required to commence construction. The developers expect to receive a site plan permit from the city of Austin in January and start construction the following month.
Eastbound will be constructed on two tracts totaling 3.4 acres where Austin Plant Supply, a wholesale plant nursery, and Austin Kickboxing Academy are currently located. The Lincoln-Kor joint venture — which also includes Goldman Sachs as equity partner — purchased the property from a family trust in May.
Next to Eastbound, construction is slated to start in the fourth quarter on Eastlake at Tillery, a 162,000-square-foot office complex from Cypress Real Estate Advisors and Greenbelt Commercial LLC at 3212 E. Cesar Chavez St.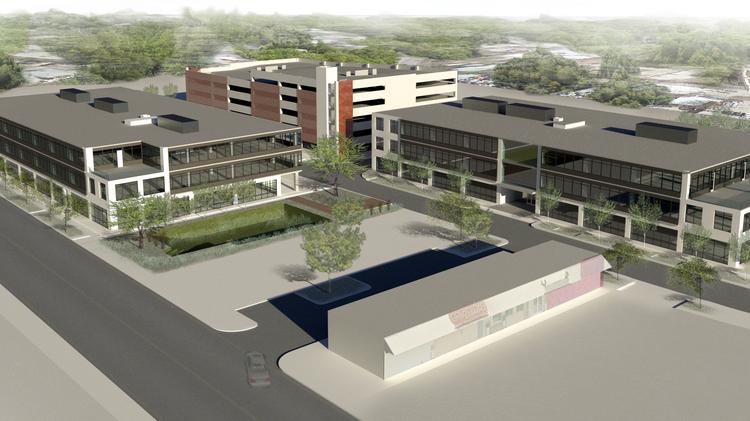 ---
AUSTIN GREEN MAY BE BIGGEST TO COME
Behind-the-scenes work is being done to bring a 2,100-acre residential and commercial development near the airport to fruition.
Austin Green would transform a massive swath of Southeast Austin into a dense urban landscape with homes, offices, shops and parkland.
Developers at GroundWork want to build 12,000 residential units and 2.25 million square feet of commercial space, as well as a three-acre fire station. Austin Green, which is now a sand and gravel quarry, would straddle State Highway 130 from the Colorado River to FM 969.
GroundWork is affiliated with Austin-based Momark Development LLC, which in 2018 opened the Tyndall apartment building in East Austin.
Momark principal Terry Mitchell said he expects zoning and a municipal utility district to be authorized in the spring, and dirt may be turning in 2021
ABJ previously reported the consultant team includes Kimley-Horn as civil engineer, Lionheart for land planning and landscape architecture, HDR for transportation engineering, ACI Consulting for environmental and ecology, Terracon for geotechnical engineering, RCLCO and Capitol Market Research for market analysis and Pam Madere at Jackson Walker for legal counsel.
---
EVEN MORE FOR RIVERSIDE
River City Capital Partners LLC is adding a mixed-use development at 6400 E. Riverside Dr. called Urban East on land that's currently undeveloped.
It will feature 111,000 square feet of office space, about 20,000 square feet of retail and 384 apartment units spread across two buildings — with units averaging about 828 square feet. It will also include two parking garages with about 788 spots, plus 65 surface parking spaces. Tenants won't pay for parking, developers said.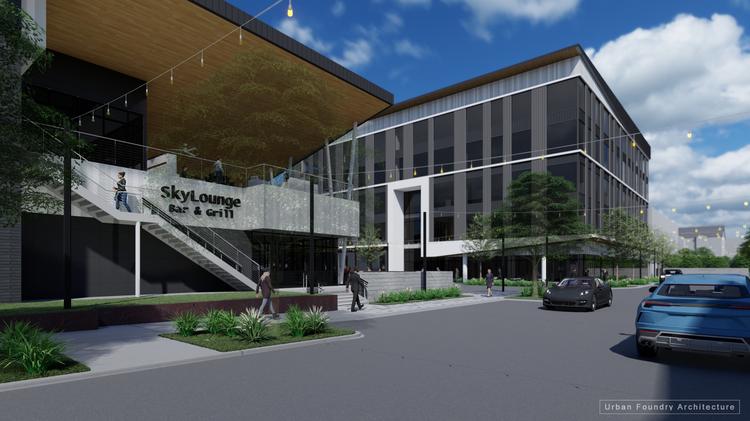 Building permits are rolling in and construction should start in the first quarter of 2020, said Cory Older, president of River City Capital.
St. Croix Capital Realty Advisors LLC will handle leasing.
Urban East is in a federally designated opportunity zone, offering tax benefits to its developers and qualifying tenants.
Older said the learning curve related to opportunity zones delayed the project by about a year.
St. Croix is courting homegrown brands for the retail and restaurant portion of the project.
"Austin loves local restaurants, and so that's who we want in the locations," Older said. "We think that will be attractive to both the tenants in our project and neighboring projects, the homeowners in the area and all the Oracle employees."
Developers hope to attract tech-centric office tenants who want to be near Oracle Corp.'s new East Austin campus.